Engine – 510 horsepower and 3 liters. Almost equal horsepower as liter figure in the trunk! Would that be your dream car? This here is the BMW M3 Touring. The first time the M3 arrives in the estate form.
We'll tell you all about it with Thomas on Autogefühl in 4K, full screen, full length. Let's go! Here with the front, the typical super strong M3 double kidney. Yeah really massive.
We nowadays maybe already call it 'BMW beaver style'.
And you can see here, the double kidney has no frame. That is the M3 signature thing. You can also see this is the M3 Competition because the estate model will only come with all-wheel drive and only come as the Competition model then with 510 horsepower. We'll soon take a look here under the hood as well.
And then this color here for today is an individual color, the Frozen Black.
Looks really massive and even more menacing here than today. Headlamps, they start with LED and these are here, also the optional Laser Lights. And we also have a special carbon fiber pack here and it already starts here in the front. 4.80 meters or 189 inches is the length for the M3 Touring.
Of course, the M models are always a little bit longer because of the spoiler overhangs. Wheels, interesting that 19 inch in the front and 20 inch in the rear. So also mixed wheels. So wider then in the rear. And here, once again with the special alloy styling.
Spider Style, really impressive. And the carbon fiber pack continues here also at the side profile. For example, with carbon fiber side mirror caps right here. Yeah, and does the M3 work as Touring? Would like to know your comments about that, especially here with these extended wheel arches.
Even more massive hip area. Top of the roof is either here, standard high gloss black. But you can also order it in vehicle color or a carbon fiber roof (for M3 sedan) would also be possible.
Massive styling here in the rear. That's what this vehicle is famous for and that works very well as the estate.
But is it too much for you? What do you think? Tell me in the comments. Slim integration here of the taillamps. And then, more carbon fiber used with this carbon fiber pack here in the lower part.
But even if it wouldn't be carbon fiber, this diffuser looks really massive and the real quad exhaust pipes.
It gets a rear differential, by the way. xDrive, as I said, but still you have a rear-wheel bias. What's the top speed? Well you start with 250 km/h or 155 miles an hour but you can then unlock it with a special Driver's package to 280 km/h – 175 mph if that would be relevant to anyone.
And now what do we have under the hood? Tada! This one here is the 3L inline six-cylinder. 510 horsepower in the Competition version. The Competition always has some more horsepower.
And said I said, the estate's only as Competition. 650 nm of torque. And the acceleration figure to 100 km/h or 60 mph is 3.6 seconds. The all-wheel drive has a rear wheel bias but you can also have in that menu there from the inside, the two-wheel drive setting that basically uncouples the front.
And then you also can go for rear-wheel drive only. in, you know, ESP, everything off and so on for example, for track use. Heading towards the interior, first of all, door closing sound…
Yeah, actually quite solid. Nice. Then inside of the doors here, Hofmeister Kink design element for the inside right there, we know that. Harman Kardon sound system. And special to the M3, once again, carbon fiber inserts here at the steering wheel.
Then the M Color stitching. Heated function is also available. These here are still real buttons. Then you have the M hotkeys, M1 and M2 and you can individualize. You can program your own things on there.
For example, let's say you drive normally and then M1 could be your semi-sporty setup. And then when you press M2, everything sets sporty from all different parameters you can put. That would be one use case. Sport seats would be standard. And then optional, you can get here, these bucket seats and they do have some Alcantara inserts that they slide a little bit less.
However, the main thing here will always be animal skin with the M3. If you want something without animal skin, then you would need the M340i which is more, the compromise a little bit sportiness and comfort.
The M3 really goes all the way into sportiness. And the bucket seats here, they cage you in quite tightly. So they would be something for track use, not necessarily for everyday use.
Especially here, they are very tight when you're a little bit taller or wider. So I wouldn't really recommend them for everyday driving. But for track use, they would be quite good of course because they just hold you tighter. With 1.89 or 6'2, still have enough headroom left, no problem.
And the steering wheel here in a manual control but a very, very smooth process.
Interior cockpit overview. Once again, really impressive with the carbon fiber style here. That also removes a lot of high gloss black here. That's I think, to me, the cool thing.
Here you can see the red accentuations once again. M1 and M2 buttons. And then when you press them, they also change. Then you can see what's happening in the instruments and so on. And what you can also see is here, the special shifting lever with the contrast stitching.
And then here, you can change the shifting characteristics. An important here is- Oh, the red Start/Stop engine button- but here, then the M Mode button. This one changes basically setups also for the assistant systems and so on. And Setup, then you can go even deeper into the menu and change all the characteristics. Let's check it out.
So this is here the M Mode button. Then you can also go for Sport or even Track. Then all the driver assistance systems are on…
'On', on the road or 'Off' then on the track, of course.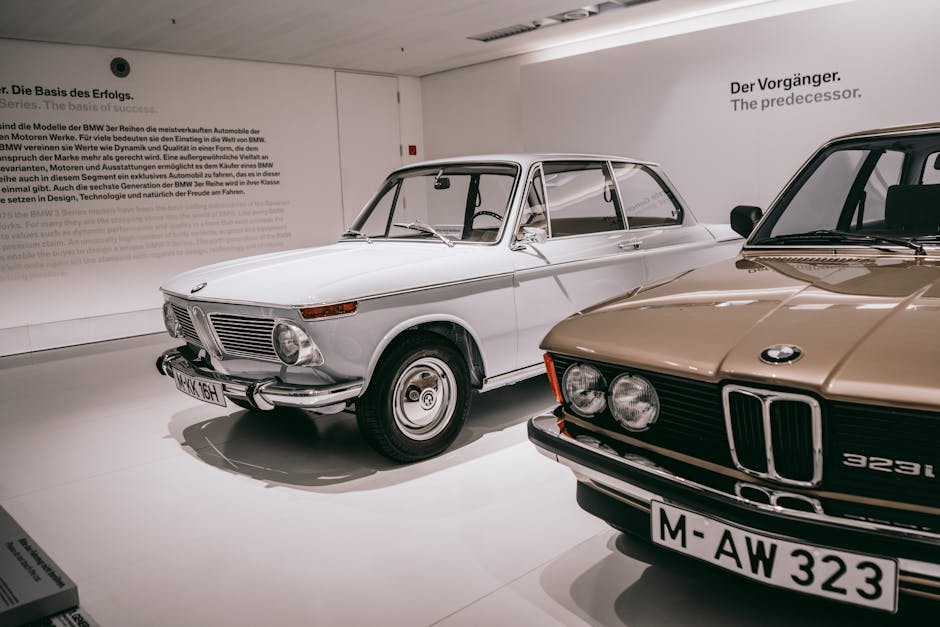 Then when we go into the Setup button, then we can really change like Engine, Chassis, Steering, Brake, xDrive. And then you can also switch this two-wheel drive mode when also all the assistant systems and ESP and so on is off. And this can actually then be set up for the M1 or M2 configuration. So here, for example, you can have on the M1, say like, 'Hey, I want my engine the sportiest way but I want a comfortable steering.
' Or the other way around, you know? And then, the same for the M2 button. So you can highly individualize that. What's also funny is that here in the Estate is the BMW OS8, by the way.
So you also, of course, have all the amenities.
We have here, the internal GPS. CarPlay, Android Auto in wireless style. And then special for the M3 once again, you have the M Drift Analyser. So when you're going drifting in that manual mode, for example, you can also see how your drift angle is and so on. In the instruments, they are also somewhat special here in these M colors.
Blue and red. There, you can also see the demo mode. Oh, we're driving 65 km/h, yay! Yeah, on the right side, you will see that the RPMs are turning up so that you also have something special, something unique in the instruments. Now to the rear seating of course, crucial here for a Touring version of a BMW.
One thing is let's just imagine you get an M3 Touring because you have a family and you need more space in the trunk, and then you also get the carbon fiber bucket seats! Here, you can see the carbon fiber cover all the way at the rear because you can say like, 'Oh yeah, you know, they're lighter.
I need that for the racetrack!' But then think about you have your kids here in the back and they can poke you all over the place through these holes here! They have four different possibilities to poke you!
Yeah, so I'm not sure if your kids are, you know, very, very well 'educated', so to speak. Then it might be no problem. But everyone else…
Yeah, just think about this. You know what I mean! And then here, headroom, that's of course an advantage if you compare it to a sedan. Here with 1.89 meters or 6'2, plenty of headroom left here also in the rear.
So indeed, it's a quite cozy position. Also legroom, no problem here. It gets close. And yeah, when you hit this carbon fiber, it won't be that pleasant but you can easily use it with four tall adults. Or kids then, ISOFIX on the outside seats each.
Here's also a special edition. Then here, you can also get these colors on the seatbelts.
But yeah, of course, it's already expensive and then they want more money from you with all the options. In the middle part, you can more or less sit for, you know, short periods of time but nothing that would..
. Yeah, headroom-wise, it works but it's quite stiff here from the seating area. And now to the moment we've all been waiting for. It is the vehicle that has almost equal horsepower as liter figure in the trunk! Well, since it's a touring, electric hatch, and then we have here, the 500-litre trunk or boot.
And we can see, the length here is a little bit less than a meter or 40 inches. And the width here, well you can see that's the only catch here. It is only like 95 centimeters or 37 inches here between the wheel arches. A little bit wider than before. Small space here in the very front.
Do you think I can carry this for now? Psst… no one will know!
So then… Oh, bit is also nice. Like this.
.. When you close this one, then you have a clicking sound as well. These are here, these anti sliders and they also come a little bit up when you drive so the luggage is better secured. Underneath here, even some more small space.
And then you also have these cover solutions here. Like this, and then you can also turn it up like this, for example. Let's move it like that. And we of course want to know the total length.
As for folding, there are these two buttons right here.
Then you can unleash them like this. And then we go with almost 1.80 meters or 70 inches in total length. Maximum loading figure, by the way, is 1,510 liters. So, would I personally go for the M3 Touring?
Well, I think it looks of course, really menacing. But to me, the better compromise is the M340i. You pay less money. For example, here, it starts around 100k. With some extras, Carbon Fiber, €125K or something.
I think not really that justified. The M340i is not cheap either but it's a better price-performance deal. You get more comfort in your everyday driving life. This one does have an adaptive M Suspension. But of course, it's set on an even stiffer tone.
With the 340i, I think you have a better compromise in everyday driving life. Yeah, it will also serve the family a little bit better.
You can also get Alcantara seating, for example, depending on the market or perforated Sensatec and so on. So, a lot more advantages, I think for the M340i and you still get the 3L inline six-cylinder. But of course, it's really cool and very impressive to see for the first time, the M3 also as the estate.
Now tune in to the M340i review or our 3-Series Touring Review!.
Read More: 10 FASTEST Cars in the World 2023!